The 13th Honolulu festival
The 13th Honolulu festival
The Honolulu festival is a festival that has been held through various cultures like the festival, public entertainments, and martial arts, etc. in Japanese various places to deepen the exchange of Hawaii with Japan every year.
..."Pacific Harmony (love and trust)".. committee in a basic theme in April, 1994 was organized, and the 1st Honolulu festival was held in March, 1995. It comes to be held in March every year afterwards, and the 13th times in this year are faced.
Tourist's from every country in the world participant including the local is a cultural exchange event of the Hawaii maximum level exceeding 2.5 million people in total.
Public entertainments, various performances of Japan, and variegated events are held for the holding period. A grand grand parade is done in the Kalakaua Main Street in Waikiki on Sunday in the final day (16:30 20:00).
Holding period: ?11 day on Friday, March 9(Sunday)
The Honolulu Festival Foundation
At the mailing destination: P.O.Box 8494 Honolulu, HI 96830 U.S.A.
Inquiries: (808)926-2424 Fax: (808)922-1412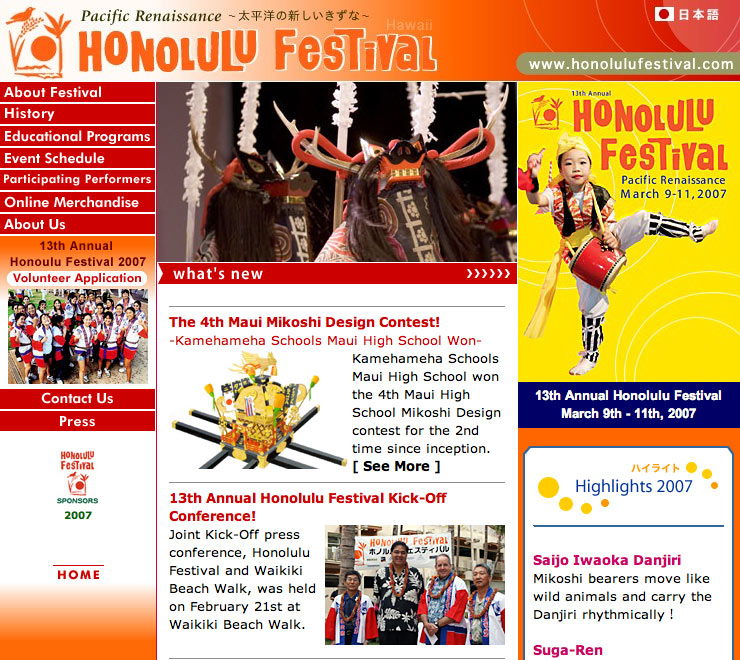 Honolulu Festival
www.honolulufestival.com