Sale of guide book of Hawaii in which it specialized barrier-free
Sale of guide book of Hawaii in which it specialized barrier-free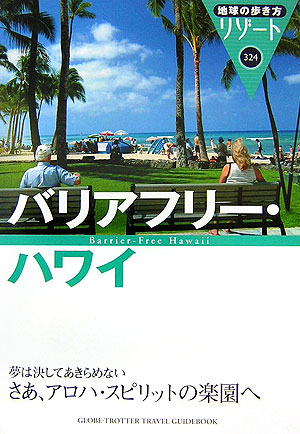 It became familiar by "Walking of the earth", and the guide book that added barrier-free information to sightseeing information on Hawaii was put on the market in the diamond Big company.
The name is "Walking Rizortobariafrehawai of the earth. "It seems to be the first traveling abroad guide book in Japan to which Core and information on barrier-free were described.
It introduces each transportation necessary for the travel, the sightseeing spot, the activity, shopping Place, and notes, etc. when applying for the reservation each facilities and an optional tour, etc. including barrier-free information such as hotels though it is a content. In addition, the tourist and the senior citizen for whom opinions of a well informed people use the wheelchair before it travels become references very much, too.
Especially, the introduction such as shops that use it easily even if there are an activity and a trouble to be able to participate with the presence of the type of the area in the opening of the hotel guest room and the bathtub and differences and wheelchairs is very.
The size of the character is enlarged, and the guide book expects to understand the difference and the width etc. of the passage in the photograph easily and is laid out.
Chikyu no Arukikata Resort(324) Barrie-Free Hawaii
www.alohaclub.com/link/Arukikata-BF-Hawaii.html