Great Hawaiian Rubber Duckie Race & Festival
Great Hawaiian Rubber Duckie Race & Festival
Unique race and "Gratohawaianrabardakkeras" that the sink and the order compete in Ala Wai Canal are held from the Kalakaua bridge by the neck the mule duck (rubber duck) that applied the number ticket.
Gratohawaianrabardakkeras is a charity event to collect funds of the American brain paralysis society. This race played for the first time in March, 1988 also finally faces the 20th times this year.
20,000 mule ducks are about 2 miles (3.2km) per hour, and 15 ~ It swims in Ala Wai Canal spending 20 minutes. In addition ..the kids game and the entertainment.., original goods are sold in the McCully shopping center before the race.
2007 Great Hawaiian Rubber Duckie Race & Festival
20th Annual Great Hawaiian Rubber Duckie Race
Date: Saturday, March 24 09:00 ~(13:20 starts of the race. )
Address: 414 Kuwili St. #105 Honolulu, HI 96817-5050
Inquiries: (808)532-6744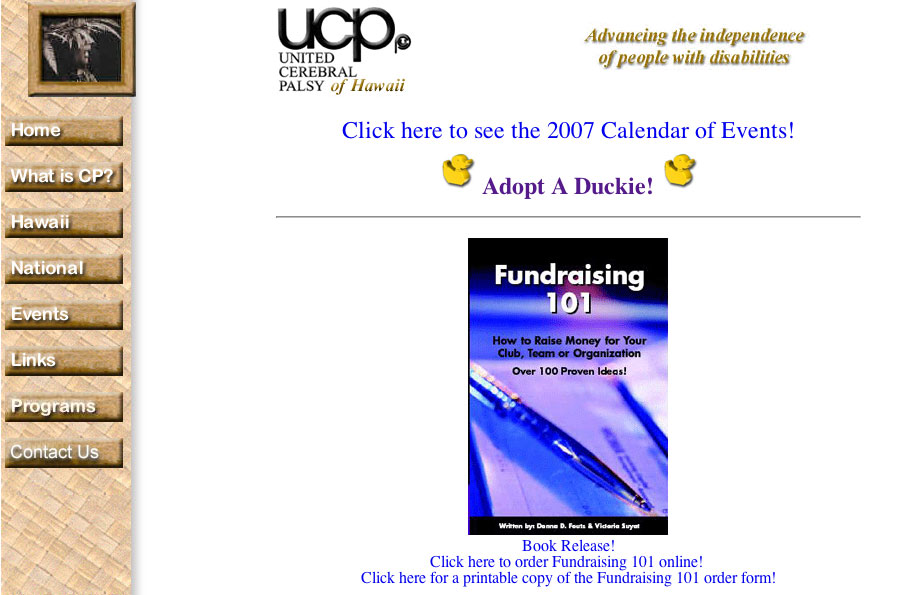 United Cerebral Palsy Association of Hawaii
www.ucpahi.org